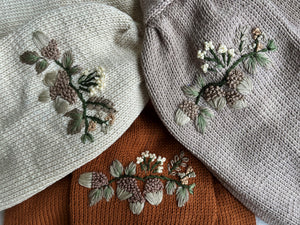 Penoora's combines Scandinavian simplicity with traditional craftsmanship. We use only high-quality materials like linen, GOTS certified organic cotton, Oeko-Tex wool and mercerized cotton. All our clothes are handmade by female artisans coming from a variety of professional backgrounds. Our group consists of retired bank officials, police officers, university students, cooks and teachers just to name a few. Common for all is their desire to work with their art.
As Penoora's, our goal is to identify and promote talented women with high potential, who for certain reasons aren't able to participate in the workforce. We are no charity, however; Our focus is on building self-confidence in women through productivity, creativity, art and good work ethics.
We support the Fashion Revolution and value transparency and good ethics as being essential to our production principles. All our clothes are unique and are tagged with the name of the woman who made them. We believe these individual differences are the essence of handmade goods and create a bond between the artisan and the consumer. 
wholesale aw23
Catalog Out Now
Would you like to join the Penoora´s Family in AW23? Send us an email for a link to our online catalog.
Contact
Read about
our women
Want to know more about the talented people behind our beautiful clothes at Penoora´s?
Read More